1
Create an account
Fill a short online form and confirm your investor contract. It will take you not more than 2 minutes and your investor account will be ready immediately.
2
Add funds
Decide how much you want to invest. Adding funds to your investor account is as simple as transferring money to a bank account or an online card payment.
3
Recieve revenue
Money is invested in a way which ensures high revenues and diversification. In your account, you can see how the portfolio is evolving and how your revenues are paid.
4
Access to money
You can withdraw your earned money to your bank account at any time. Our unique withdrawal system will ensure that they are always quickly available even when invested.
Investments security
Our approach allow us to achieve above-standard returns from investments and at the same time provides high security and guarantees for all investments.
Buyback guaranty
If a borrower did not repay his loan on time, the loan provider provides a Buyback guaranty the purchase of the entire claim back from investors. This covers not only a principal, but also an unpaid interest. By this investor have covered entire credit risk.
Skin in the game
Loan providers do not give their entire loan participation to investors. They always keep a portion in the loan and together with a Buyback guaranty this secures their high motivation for its professional administration and risk management.
Only verified providers
We only work with proven professional loans providers with years of experience and significant market share in the sector. Their history, size and financial parameters secure an effective cooperation.
Previous
Next
Investment terminal
The investment account is available 24/7 online and offers a comprehensive overview of investment portfolio, its development and is easy to manage. Its main part presents Investment Terminal highlighting key portfolio development, investment return and account balance. In addition, all investor receives regular monthly account statements and information about their investment by email.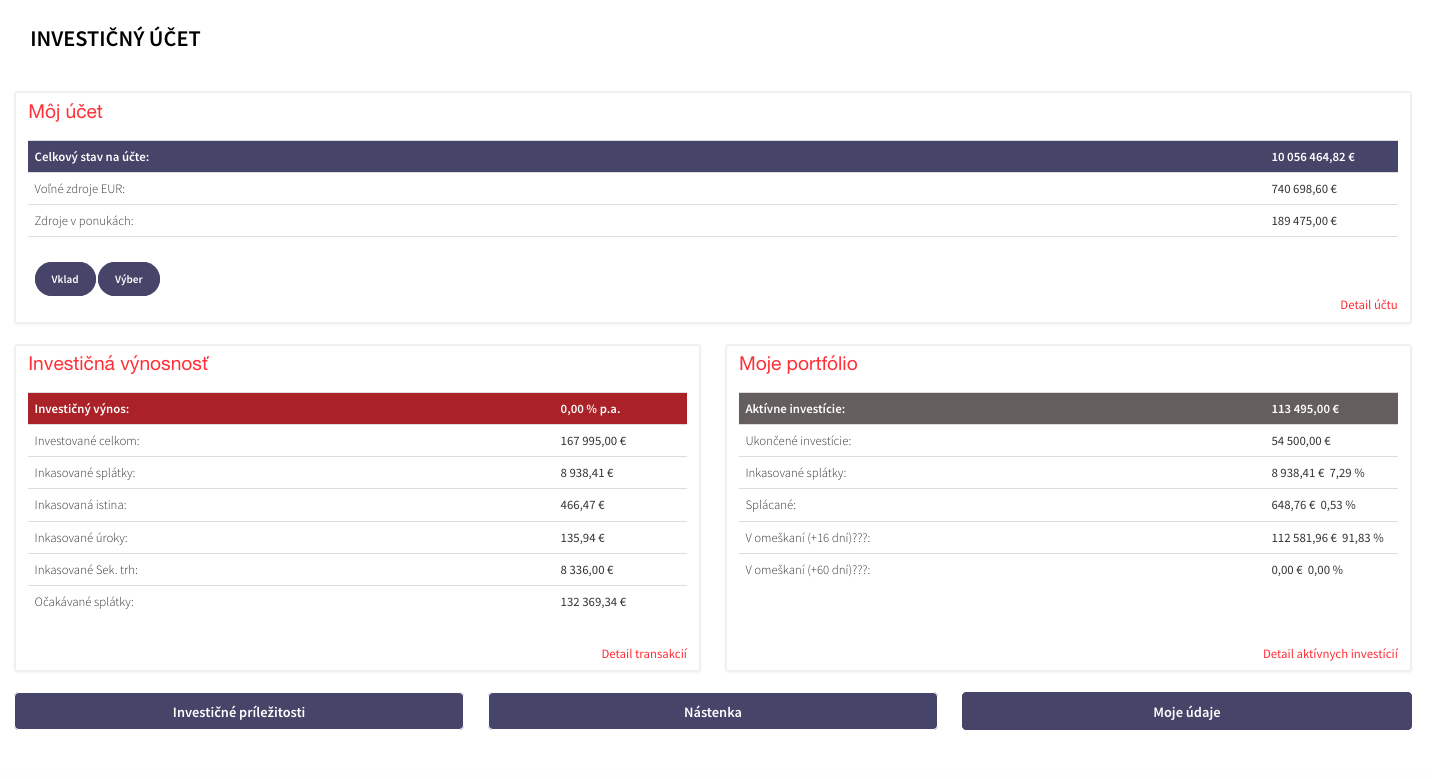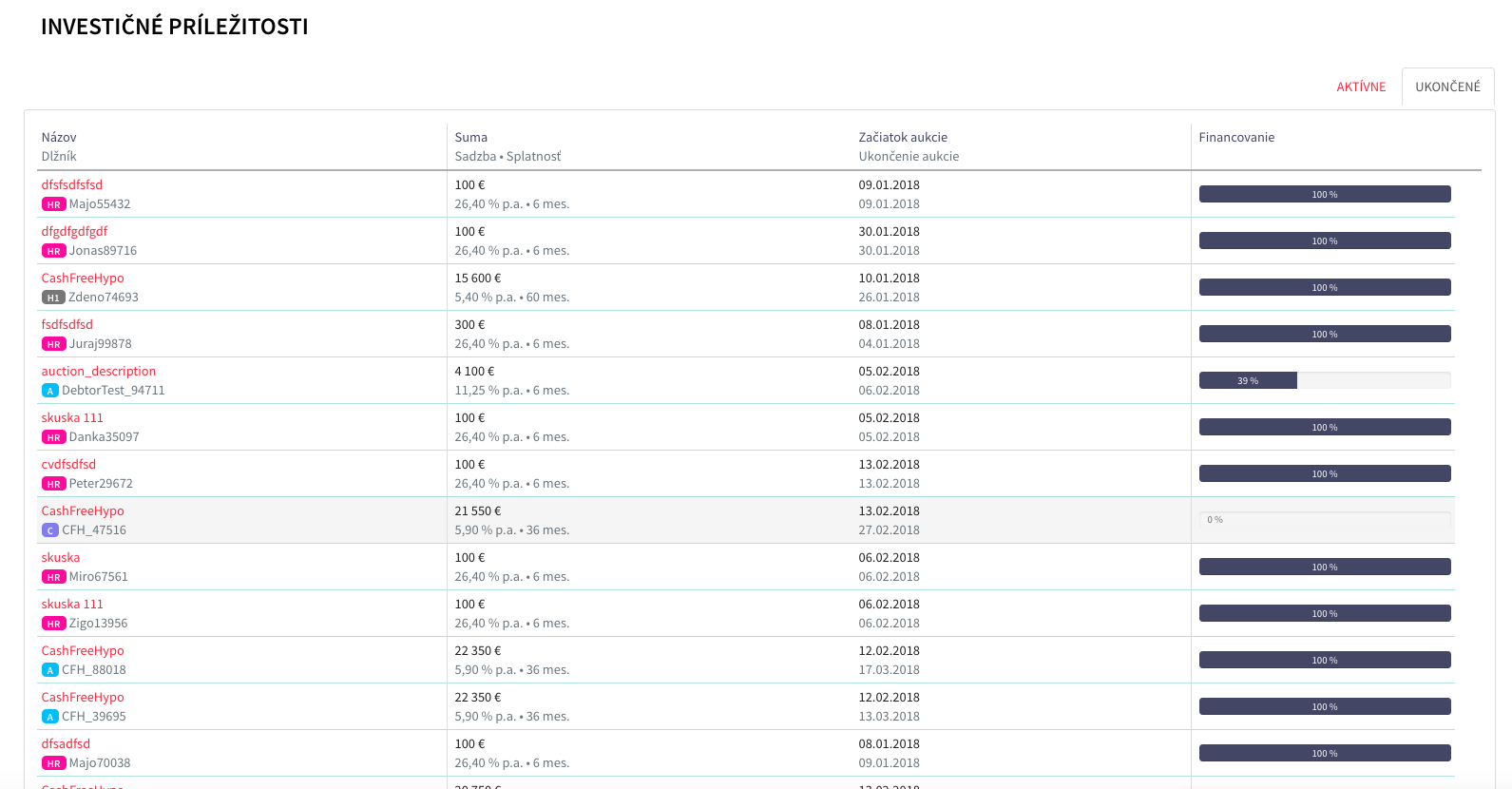 Automatic investment
Investors do not need invest in to loans manually and thus spend their time for it. The system invests automatically for them. Our investment algorithm works to ensure the highest possible return on investments and as well as wide diversification among number of loans.
Manual investment
If client prefers to manage his investment portfolio by himself and choose exactly to which loans and under what conditions his money will be invested, it is not a problem. The system allows an easy option of manual investing and money management.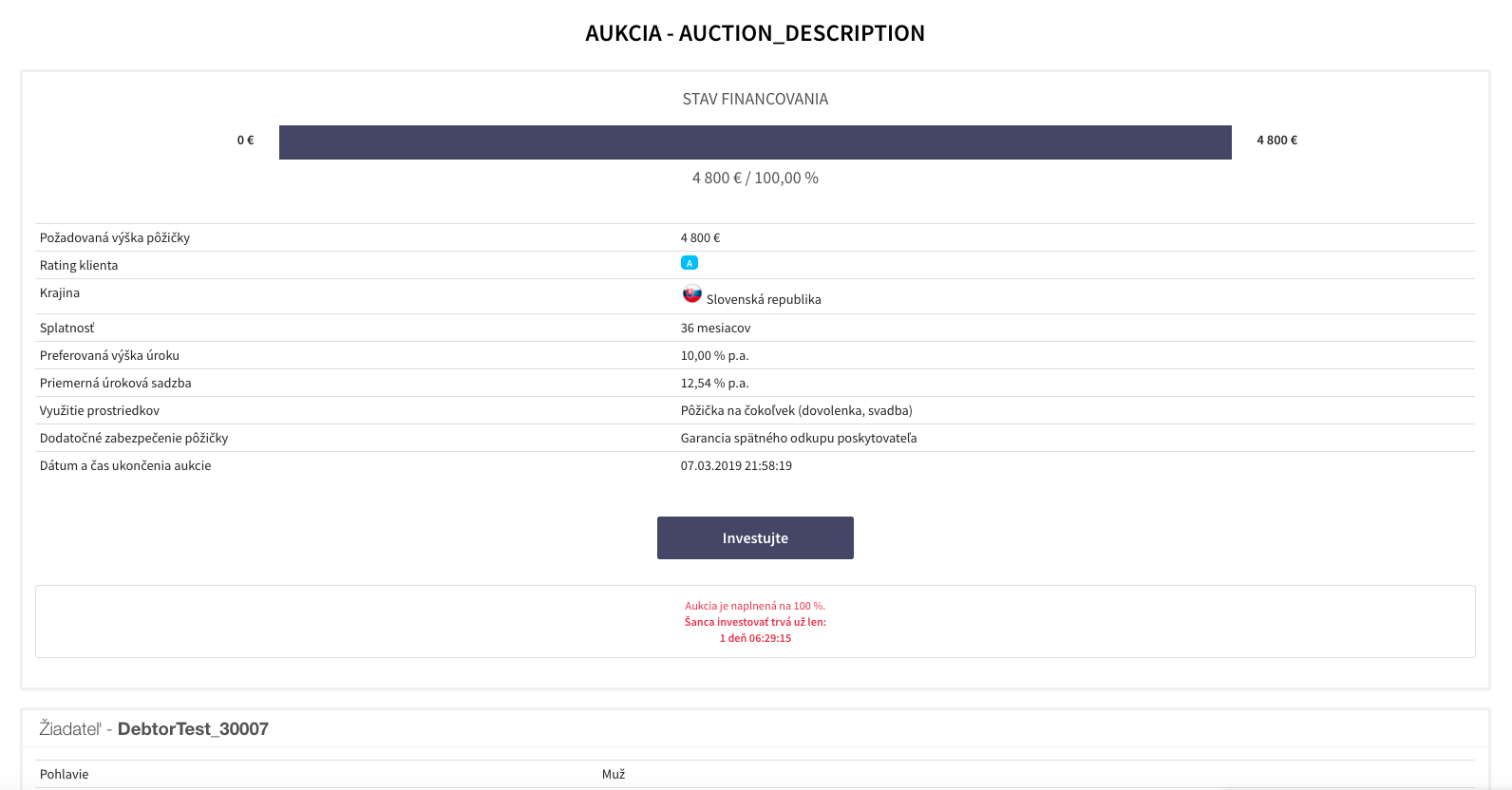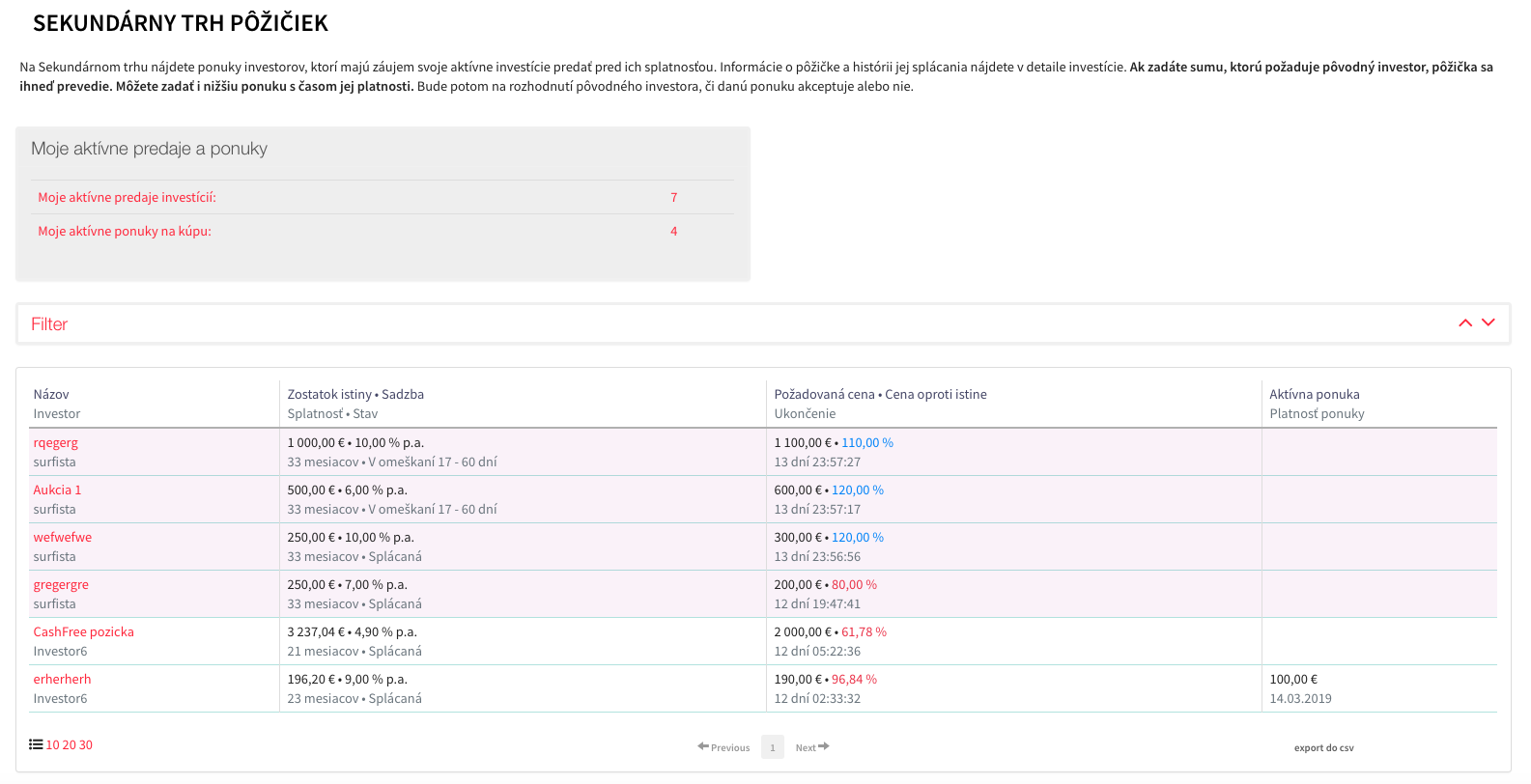 Secondary investments market
For active investors the system offers a possibility of Secondary investment trading. When a client wants to sell investment before its maturity, he simply determines its price. If a user is interested in buying investments made in the past and thus optimizing his returns, he can easily do so in our Secondary market.
Account overview
Transparency of investment management and money management is one of the key aspects of our operation. Clients have a constant access to details of every transaction on their account. Transactions can also be summarized by items and periods and exported to external reports. Clients funds on his investment account can be also withdrawn anytime.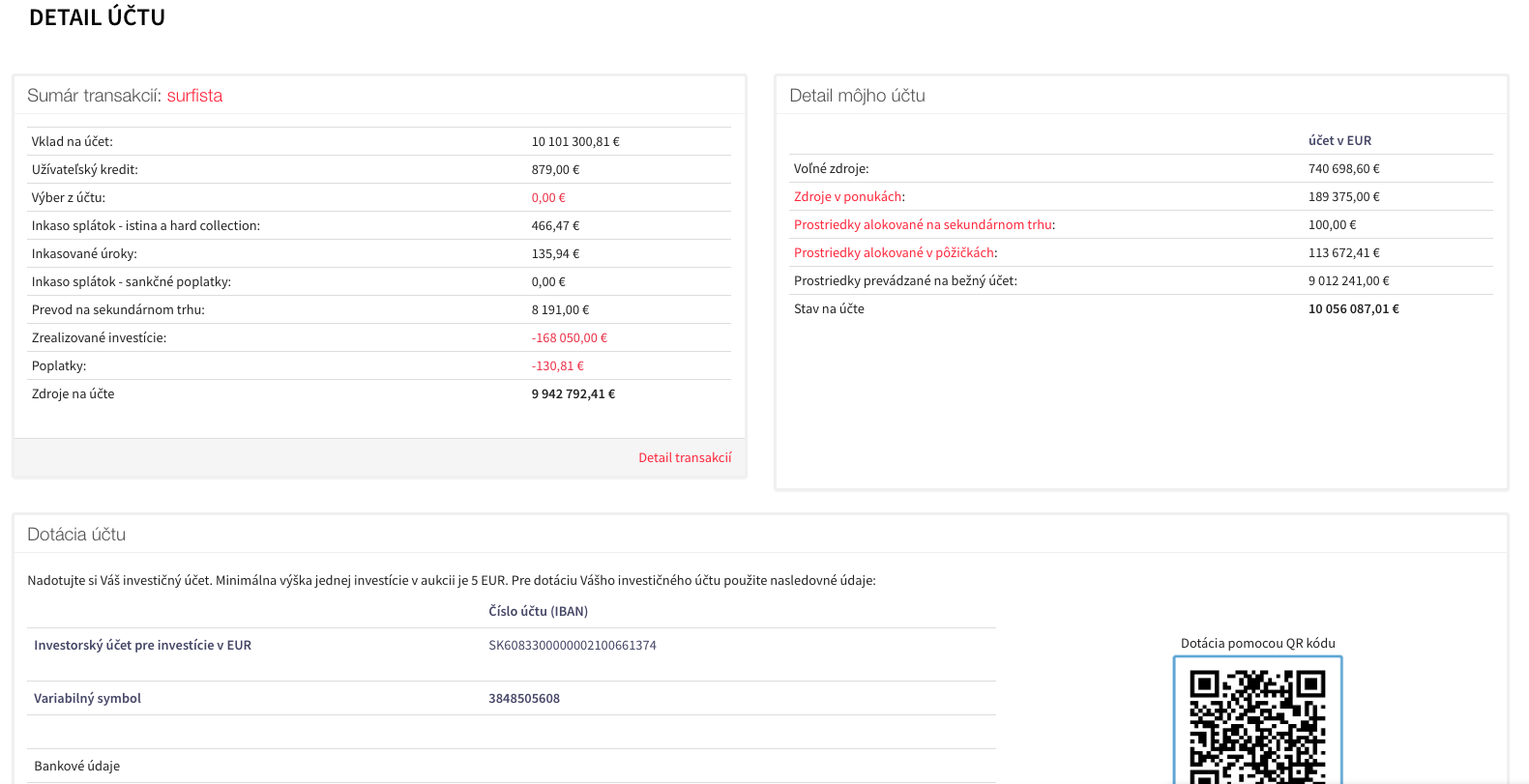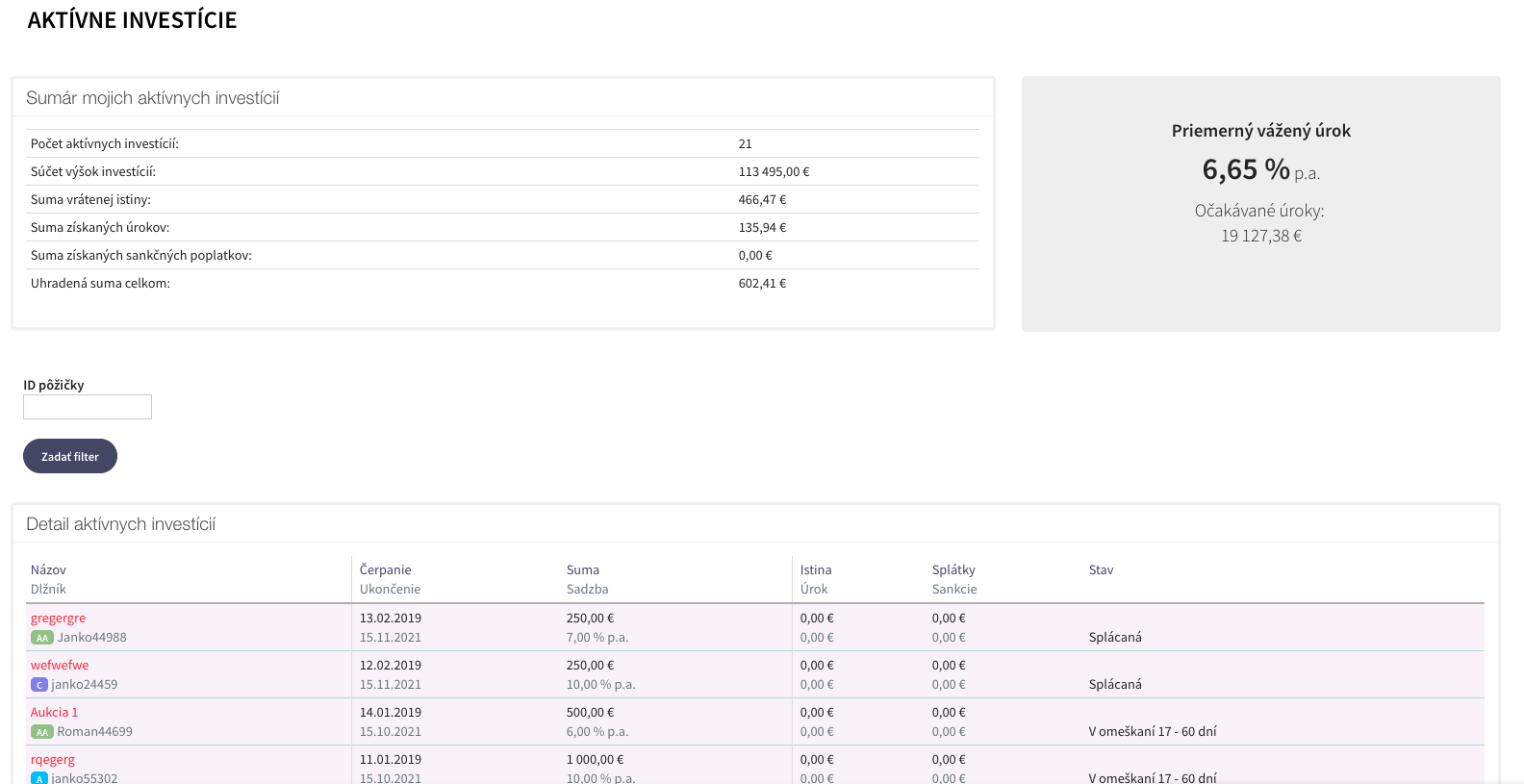 Detail of realized investments
Investors have full overview of their portfolio performance. At the same time, they can see the detail of every current or past investment. In investment detail page they see basic loan and borrower data and an overview of a history and future of his repayments.
Notification center
Users can use their own Notification center, where they will be notified about all news on the portal, their account and portfolio. They can easily choose which messages type they want to be receiving by email and which only as a notification message. Users can also follow each other and be inspired by investment strategies of other investors.